Last Update: August 27, 2019
Nara Kasugano International Forum 甍 IRAKA

  Nara Kasugano International Forum 甍 IRAKA was constructed in 1987 in commemoration of the 100th anniversary of the establishment of Nara Prefecture. It is located in the center of Nara National Park, which is famous for its beauty and 1,200 tame deer.
  Nara was the capital of Japan from 710 to 784, and has many historical shrines and temples containing national treasures. Famous tourist spots such as Kofukuji Temple, Todaiji Temple, Kasuga Shrine are within walking distance from the hall.
  The Hall has an impressive Noh theatre, which can be easily converted into a multi-purpose auditorium, conference rooms with simultaneous interpretation equipments for up to four languages, a reception hall and a spacious garden.
Traveling to Nara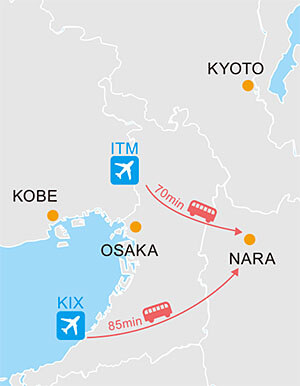 Nara Prefecture is located in the Kansai region of Japan, which lies in the central part of Honshu Island and is adjacent to Kyoto and Osaka. There are two international airports near Nara: Kansai International Airport (KIX) and Osaka International Airport (ITM). The easiest way to travel from the airport to Nara is by limousine bus, which takes 85 min from KIX and 70 min from ITM. Another option is to take a train, through the train connection from the airport to Nara is a little complicated. The West Japan Railway (JR) and Kintetsu Railway also provide easy access to Kyoto and Osaka from Nara. For more information, please visit the Official Nara Travel Guide website: www.visitnara.jp .