Last Update: October 1, 2021
Closing Address
  Good evening or good afternoon or good morning, ladies and gentlemen.
   At this closing of this symposium, on behalf of the conveners, I would like to convey our deepest gratitude to all the participants of this symposium.
   We had in this symposium about 134 participants from 12 countries over the world. We had 8 marvelous keynote lectures, 47 original oral presentations, and 44 interesting poster presentations. I am sure that this symposium was quite an active one in the wealthy tradition of ISHS symposiums in spite of online style. We would like to express our sincere thanks to all the participants for their warmhearted cooperation.
   We also express our deepest thanks to our 2 Platinum, 7 Gold, 6 Silver, and 3 Local sponsors of this symposium for their good support.
   The 8th International Persimmon Symposium will be held in China in 2024. Until then, I hope that the exchanges and the connections made during this symposium will grow over time and become lasting relations. After 3 years, in 2024, we will see each other again in China, not online, as a real symposium, we hope.     
Thank you very much for your warm attention.
(Farewell, Sep. 26, 2021)
Prof. Emeritus Dr. Keizo Yonemori
Prof. Dr. Satoshi Taira
Conveners
Welcome Messages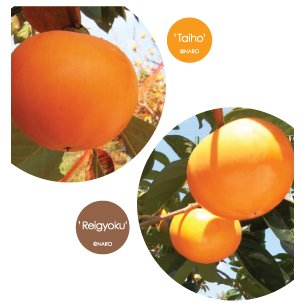 Welcome!
  On behalf of kaki2020 organizing committee, we are delighted to invite you to the 7th International Symposium on Persimmon on September 20-26, 2021. This symposium will be held as an online virtual symposium. It is very regrettable that we cannot hold the "in-person" symposium in Nara, the beautiful ancient capital of Japan, but we have decided to hold the virtual symposium, considering the health and safety of the participants first and foremost, and also to prevent the spread of the COVID-19 infection in the countries concerned. Nevertheless, Nara will still be the host of the symposium. We hope you will be able to get to know the feature of persimmon cultivation in Nara as well as the culture and history of Nara through the virtual tour. When the pandemic is over, we hope you will visit Nara and experience the atmosphere of this quaint historical city in person.
  The aim of this Symposium is to provide a platform for discussing and sharing recent research and innovative techniques related to persimmon in order to better understand this crop and make practical advances in its cultivation and utilization. This symposium will also provide individuals who work on or are interested in persimmon with the opportunity to come together, promoting international relationships. The organizing committee will make every effort to provide a forum for exchanging valuable information that is comparable to an in-person meeting by using various online tools.
  Your participation in this symposium is essential to its success. We are looking forward to seeing you online.
Kaki2020 organizing committee
Persimmon production in Japan
  The persimmon is a popular autumn fruit that has been consumed in both fresh and dried forms since ancient times in Japan. It is the third most popular fruit in terms of production, with 225,300 t being grown in 2017 over an estimated growing area of 19,800 ha. Nara Prefecture is one of the primary producers of persimmons, alongside Wakayama and Fukuoka Prefectures. "Fuyu" has always been the most popular non-astringent persimmon cultivar for fresh use, while "Hiratanenashi" and its early-maturing bud sport "Tonewase" are the dominant astringent cultivars. The National Agricultural and Food Research Organization of Japan (NARO) also recently released several new non-astringent cultivars that produce large, high-quality fruit, such as "Taiho" and "Reigyoku". Dried persimmons are produced commercially using local cultivars in each production area. Persimmon-leaf-wrapped sushi is one of Nara's local specialties that can be enjoyed by tourists who visit this region.
Greetings from Nara
  As the Governor of Nara Prefecture, a large producer of persimmons in Japan, it will be a great honor to welcome persimmon experts from around the world to our prefecture.
  Nara is the native land of "Tone Wase", one of the main astringent persimmon varieties, and is Japan's largest producer of persimmons particularly those grown in heated greenhouses. With advanced skills and technology, our farmers offer the highest quality persimmons to consumers.
  It was here in Nara where the first fully-fledged capital of Japan was built over 1300 years ago. And Nara is still blessed with historic and natural scenery containing World Heritage Sites such as Todai-ji and Horyu-ji temples. I hope the participants in the next Symposium will also enjoy Nara's unique legacy.
Shogo Arai
Governor of Nara Prefecture
Japan
Food and culture in Nara
  Nara Prefecture is the historic and spiritual center of Japan, being the place where the first capital city was built over 1300 years ago and Buddhism first flourished. Close to Kyoto and Osaka and readily accessible by train, Nara has a multitude of United Nations Educational, Scientific and Cultural Organization (UNESCO) World Heritage sites and well-preserved temples and shrines. However, much of the region is still semi-rural, with picturesque villages and a rhythm of life that reflects the seasons.
  Nara has more World Heritage sites than anywhere else in Japan, with three key sites over 20 individual venues. These include the Ancient Monuments of Horyuji with their unique historic, spiritual, and artistic significance, the Historic Monuments of Ancient Nara, which acknowledge the vitality of the Nara period, and The Sacred Sites and Pilgrimage Routes in the Kii Mountain Range, which span the Yoshino and Omine Mountains.
  Sake, or rice wine, which is a special product that is dedicated to the gods, originated in Nara and has since been refined here to produce Nara-shu. Miwa Somen, a type of Japanese fine noodles, is another special local product that is produced in the Miwa area centering around Sakurai City, Nara Prefecture. Indeed, most somen production areas in Japan have originated from this region.